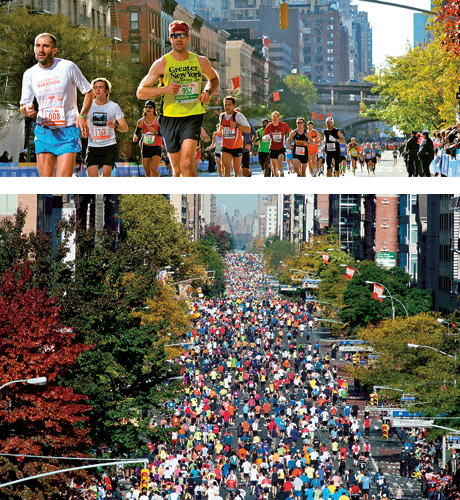 TCS New York City Marathon Holidays
 SUNDAY 6th NOVEMBER 2016
 If you run, then The TCS New York City Marathon should be at the top of your list. The city is big, brash and exciting – the marathon is equally so. You will run through a melting pot of ethnic and cultural influences as you leave suburban Staten Island, run through Brooklyn and Queens before crossing into Manhattan, briefly pass through the Bronx and finish in Central Park. The crowds are the best, the loudest, the most fun – simply they are New Yorkers and they are determined to welcome 'the World to Run'™ as the New York Road Runners are proud to claim.
RUN THE TCS NEW YORK CITY MARATHON ® WITH 2:09 EVENTS™ FOR THE BEST POSSIBLE SUPPORT.
Personal Training contact with London Marathon winner Mike Gratton and 3hr performer Yolanda Gratton
A general Marathon Training Day in July to set you on the right route in London
A NY Specific Training and Information Day in early September in London
Fully Escorted while in New York
Group warm up run to the finish area in Central Park on Friday morning before the marathon
Guaranteed Race Entry
Transport to the start
Spectators looked after by our staff and excorted to the 16 mile point to watch the race on Sunday morning
If you would like to hear about up and coming 2:09 events and news join our newsletter list!
---
New York City Marathon Holiday Packages