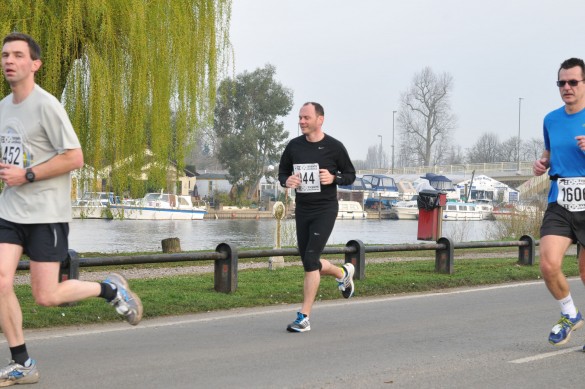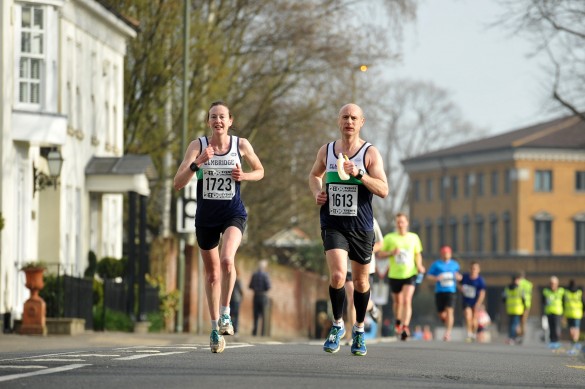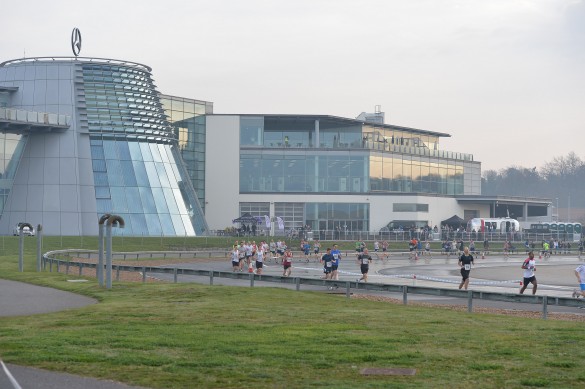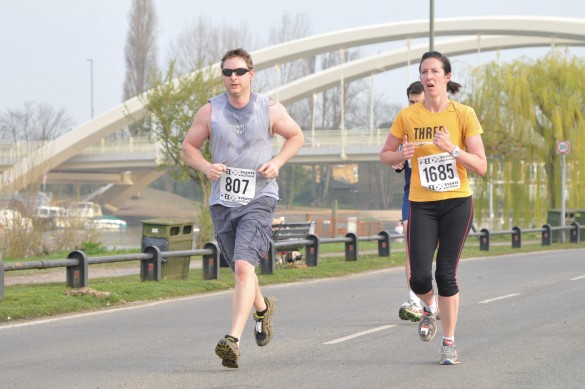 We welcome you to the third running of the Weybridge Health Club Brooklands Half Marathon and for 2016 we have moved to an earlier date - celebrate Valantines Day with a Half Marathon and then treat your loved one to a lunch at our official hotel, the 4-star Oatlands Hotel housed in a magnificent stately home with history going back to Henry VIII.
THE RACE
The event promises to be the premier Spring Half Marathon in the London area and will once again be held on closed roads. For 2016 we introduce pacers to help you get your target time - pacers will be running at 1.20, 1.30, 1.40, 1.50, 2hr, 2.15 & 2.30 pace.
Starting on the test track at the super modern Mercedes-Benz World in Weybridge, Surrey, the first 2 miles are all on the really smooth track surface before going out and through Weybridge, along the Thames by Walton Bridge and back to the Mercedes track for the last 2 miles and finishing on the historic Brooklands Straight.
Mercedes-Benz World is an exciting venue, close to South West London and on the M3/A30 main road links making it easy to get to from central London and from the M25. The futuristic venue gives us space for a 'Marathon Village' with sports retail and catering outlets and a 'charity village' along the home straight for the charity groups entering the event.  
All runners will receive a quality technical event t-shirt and bespoke finishers medal.
Right next door is the Brooklands Motor and Air Museum making for a super day out.
START TIME: 9am
If you would like to hear about up and coming 2:09 events and news join our newsletter list!
High quality technical t-shirt 
Bespoke finishers medal.
Prizes to: First 5 Male/First 5 Female/First Masters M&F 40, 45, 50, 55, 60, 65, 70+
Quality goody bag
Closed Roads
Professional Medical Services Backup
Free Parking
Onsite toilets
Baggage storage
Catering Facility

 

Minimum age is 17 yrs

NEW START TIME: 9AM

PRIZE GIVING: 11.30AM

LAST RUNNER: 12:30

Road closures on the public Highway end at 11.30am. Runners on public roads after 11.30am will be asked to run on the pavement until they reach the Mercedes-Benz World circuit in traffic free conditions.

Terms & Conditions

Terms & Conditions

Once your race entry is accepted either online, by post or over the telephone we are unable to make refunds. You may roll your entry over to another 2:09 Events race subject to space availability and paying any difference in entry fee. Roll over places must be requested in writing or by email at least 72hrs before the event - changes after this will count as no-show and we will be unable to change your entry.

Refunds will not be payable if we are forced to cancel, or in any way change the event due to war, threat of war, riot, civil strife, industrial dispute, terrorist activity, natural or nuclear disaster, fire or adverse weather conditions or other circumstances amounting to force majeure.
In the unlikely event of the cancellation/postponement of sporting events for whatever reason, 2:09 Events Ltd cannot be held responsible in any way for any monetary loss, inconvenience or any other circumstances outside of our control, including non-refundable events fees.

Disclaimer:

I agree and abide by the rules of the event's governing body (eg UK Athletics/British Triathlon Federation) and the event. I understand that I enter the race at my own risk and that no person(s) or organisation(s) will be held responsible for any accident, injury or loss to myself, prior to, during or after the event. I understand the organisers reserve the right to alter the arrangements and conditions should circumstances require.

Entry fees:

Early Bird Entry Fee to 1 September

Club Runner £30
Unattached £32


---

Normal entry fee 1st July to 21 March:

Club Runner £35
Unattached Runner £37

---

On the day entry

Club Runner £40
Unattached Runner £40

---

Please note: An admin fee is charged by Active.com at the end of the online entry process.