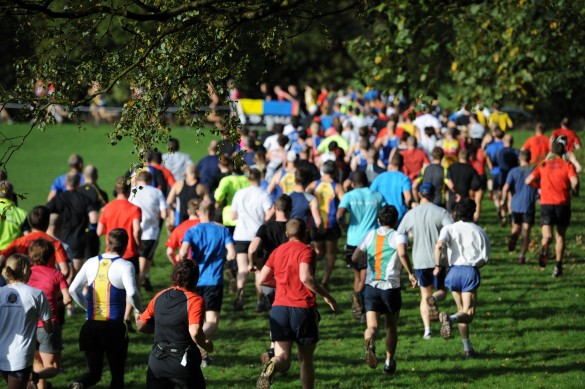 Now establised as a trail classic the Rivington Trail Half Marathon goes from strength to strength attracting a wide cross section of runners from good club athletes to charity runners taking more than 2 1/2hrs to complete the challenging route.
The route is varied underfoot and gradient. Starting with a lap of Rivington and Blackrod School field to get stretched out the next mile is a climb on an old cobbled track towards Rivington Pike before dropping back down to Rivington Barns and on to Rivington Green - passing the Tea Rooms and a busy spectator spot.
From here it is partly on road before passing Yarrow Reservoir and dropping down to Angelzark Reservoir. The run along the east side of the reservoir is flat and scenic but that doesn't last long as the lakeside path climbs a steep hill and turns into a muddy trail path - remaining very scenic all the same.
At the end of the lake the route takes runners out alongside Angelzark Moor before doing a vertual U-turn and return to Angelzark reservoir at the picturesque White Coppice.
A nasty little climb takes runners up above the reservoir on the west side with great views across the water to the Moors beyond. Crossing the dam it is uphill from the 10mile point to Yarrow Reservoir and then back to Rivington Green, Rivington Barn and the finish at Rivington and Blackrod School.
Race entry fee £20.
Please note that the entry system provider will charge £2 admin fee plus 1.2% credit card fee in addition to the race entry fee.
If you would like to hear about up and coming 2:09 events and news join our newsletter list!
Half Marathon start - 10am 

Age limit:  17yrs

Medals to all finishers
Quality technical t-shirt. 
Prizes for first 5 M/F, first Masters M/F 40, 45, 50, 55, 60+. 
Goody bag
Toilets
Changing
First aid cover by Bolton Mountain Rescue

Terms & Conditions

Terms & Conditions

Once your race entry is accepted either online, by post or over the telephone we are unable to make refunds. You may roll your entry over to another 2:09 Events race subject to space availability and paying any difference in entry fee. Roll over places must be requested in writing or by email at least 72hrs before the event - changes after this will count as no-show and we will be unable to change your entry.

Refunds will not be payable if we are forced to cancel, or in any way change the event due to war, threat of war, riot, civil strife, industrial dispute, terrorist activity, natural or nuclear disaster, fire or adverse weather conditions or other circumstances amounting to force majeure.
In the unlikely event of the cancellation/postponement of sporting events for whatever reason, 2:09 Events Ltd cannot be held responsible in any way for any monetary loss, inconvenience or any other circumstances outside of our control, including non-refundable events fees.

Disclaimer:

I agree and abide by the rules of the event's governing body (eg UK Athletics/British Triathlon Federation) and the event. I understand that I enter the race at my own risk and that no person(s) or organisation(s) will be held responsible for any accident, injury or loss to myself, prior to, during or after the event. I understand the organisers reserve the right to alter the arrangements and conditions should circumstances require.

Race entry fees:

Half Marathon £20

 

Please note that the entry system provider will charge £2 admin fee plus 1.2% credit card fee in addition to the race entry fee

Nothing to download at present.